Tips for an Eco-Friendly and Stylish Holiday Season
While the holiday season creates plenty of opportunity to show off your design and hosting know-how, excess use of disposable gift wrap and decorations is tough on the environment. Luckily, there are plenty of ways to celebrate the season in style while cutting down on waste. Here are just a few tips for eco-friendly holiday decorating and gifting this Christmas. To find even more green holiday ideas, head over to tonightatdawn.com where they're sharing eco-friendly ideas for holiday hosting, gift giving, and gift alternatives.
Green Holiday Decorating
There's no need to let the house go bare this holiday season–if you're in need of decorations, try reporposing natural materials or items around the house for some eco-friendly seasonal decor.
DIY Advent Calendars
We recently ran across instructions for a DIY hanging holiday calendar on houzz. The simple project is great for kids and requies basic items like twin, string, and recycled paper. If you're up for something a bit more involved, we also found this tutorial for crafting an Advent village with paper scraps.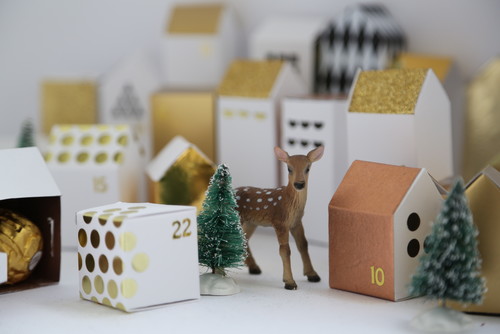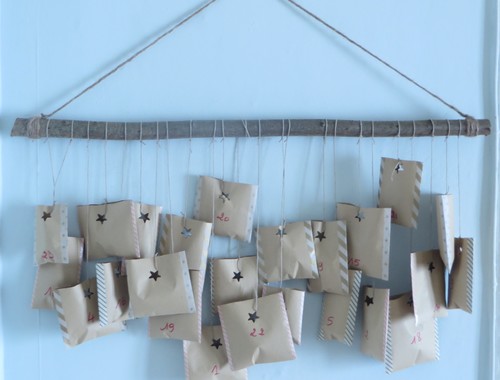 Natural Wreaths
Bring a bit of nature into your home with homemade wreath made of anything from evergreen to herbs. Eucalyptus makes for a long-lasting and fragrant decoration as we learned from this wreath tutorial on houzz.
Light up the LEDs
LED lights use 75% less energy and last 25 times longer than regualr bulbs. If you're replacing old holiday lights, check stores like IKEA for a stylish LED version of traditional Christmas lights.
Build a book tree.
Ever come across a book tree at the bookstore or library during the holidays? They take a lot of books–and a lot of patience. But if you've already got plenty of both, try building one of your own, and covering it with a strand of twinkle lights. (LED ones, of course!)


Gift Wrapping Alternatives
Going sans wrapping paper doesn't have to mean neglecting presentation or style. Ditch the wasteful wrapping paper and save money by repurposing items you already have. Or, get creative and put presents in reusable containers that are presents in and of themselves. Check out the ideas below for inspiration.
Put those stockings to use!
You probably have stockings hanging by your fireplace already. Instead of filling them with useless trinkets, tuck a meaningful present inside and fill the rest of the space with homemade goodies.
Repurposing Paper
If you've brought home any brown paper bags from the grocery store, gift wrapping is a great way to put them to use. Brown paper has a nice trendy look that can be dressed up with a ribbon or sprig of holly. We also love the suggestion on inhabitat.com to use old maps as giftwrap.
DIY Reusable Wrap
If you're the crafty type and don't mind putting in a little extra time, there are tons of tutorials out there for making reusable gift wrap. We especially love Free People's how-to post on making gift pouches out of old clothes, and this tutorial for creating shopping bag bows.
Buy It Recycled
If you're not much of a DIY-er, you can also purchase reusable gift boxes and recycled giftwrap, like this fair trade recycled cotton rag gift wrap made by artisans in India. Fish Lips paper designs also sells recylced gift wrap made with soy-based ink, processed without chlorine (making it safe for the compost pile).
A Gift inside a Gift
Consider both presentation and the interests of your loved ones when buying alternative gift containers. These items offer creative presentation and become an extra treat for family and friends:
Canvas totes
Clay flower pots (great for gardeners or DIY-ers!>
Mason jars
Baskets
Scarves (tie or pin the scarf around a small gift.)
Baby blankets (use clips or pins to cover the gift.)
Ceramic jars or cookware (great for young adults in a first apartment)
Keep the Inspiration Going!
Want more green holiday ideas? Tonightatdawn.com has great tips for celebrating an eco-friendly Christmas, whether you're looking for hosting tips or gift giving ideas. Has your family adapted any eco-friendly holiday habits? Share your traditions in the comments below!